Our history
The best hotel in the historic center of Guadalajara.
The story goes back to May 15th, 1888, when the railroad was completed in the city of Guadalajara. The station used to be just behind the temple of San Francisco; the nineteenth- century inns were 'homes' for carriers and visitors; these inns began to disappear to become buildings more harmonious with the golden era of Porfirio Diaz.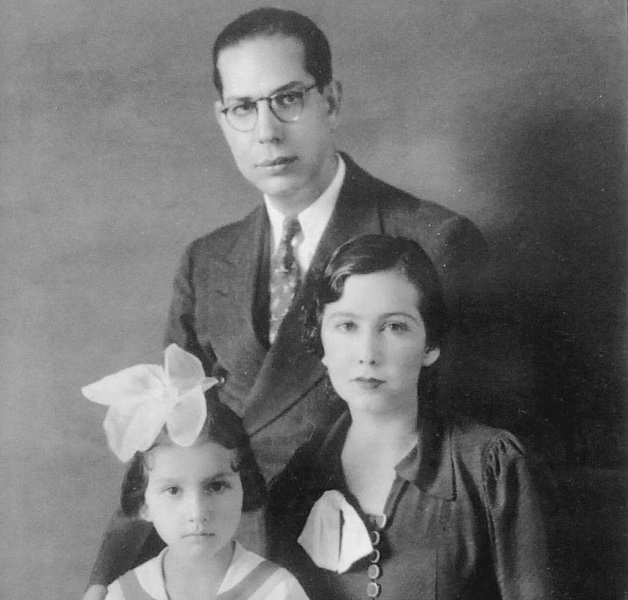 Luis Morales and family
Some wealthy families transformed their houses to receive visitors (first guest houses, then hotels). This was the case of Hotel Morales, which was originally the 'House Verea', owned by a lawyer, Mr. Luis Verea. At first, it was a 2 floor-house, with an open garden overlooking the temple of San Francisco. At the end of the nineteenth century, the Morales' sisters (who were originally from San Luis Potosi) bought it and opened the 'Assistance House of the Morales' sisters '; later on they would leave this house to their nephew, Luis Morales, who decided to expand it to build a luxury hotel; the Hotel Morales.
In 1930, he began to remodel the house, building two additional floors, with the help of Mr. Enrique Gonzalez Madrid and covering it with volcanic rock façade to give it a neocolonial look. Mr. Luis married Ana Maria Orendain Cuervo and had one daughter, Carmelita. Due to Mr. Morales' passion for 'toros', the hotel opened its doors to all people connected with the bullfighting world.
At that time, the bullring , 'El Progreso', stood proudly in front of the Cabañas Hospice, and when the show was over, the appreciative audience used to bring the bullfighter from the gates of the plaza to the doors of the Morales on their shoulders. In the hotel bar, the people gathered to have a party that lasted until dawn; this magical and festive atmosphere attracted many personalities, from writers to politicians, from singers to the major figures of the 'Golden era' of Mexican films, like Pedro Infante, Jorge Negrete and our biggest diva: Maria Felix.
Don Luis died in 1964 and his wife Anita took care of the hotel, but because of the demolition of the bullring and the deterioration of Guadalajara's downtown in 1974, she sold the property to some investors who left the building abandoned until better times. In 2003, after 30 years of silence, a group of Spanish visionaries, bought the building and its annex, the old hotel Virreinal, with the intention of redeeming the property.
After two years of extensive remodeling, they managed to regain this architectural gem and heritage of the city for pleasure and enjoyment of "Tapatios" and tourists. Nowadays, hotel Morales is without any doubt, the best hotel in the historic center of Guadalajara.